01/10/2008 She's Having A Baby!
OK, we figure that it's OK to tell everybody now – Aimee and I are expecting our first
child this summer. As you can imagine, we're more than excited. Not much more news about the baby – it (no pronouns yet)has a strong heartbeat, and Mom and baby are healthy.
Oh…our puppies are almost six months old now. They've had all of their shots and have
even had their first overnight stay away from us. They did great, but geez were they happy to see us again. Below are Frank and Jack (the latter standing). They need a haircut, huh?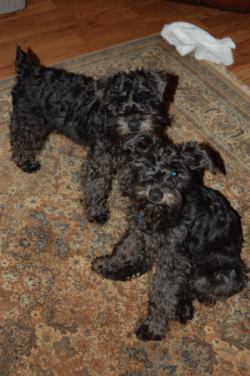 10/27/2007 The new car wasn't enough
So, I have been wanting a dog for quite some time now – a Schnauzer to be specific. Well, today we went to a breeder's house to look at what she had. By going to look I mean I intended on coming home with a dog. Success! Double Success! We came home with two. Meet Jack (in the red) and Frank (in the blue).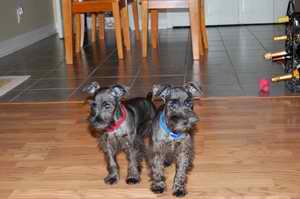 10/15/2007 ¡New Car!
Well, we bought a new car! Geez – it's nice, and for me it's a completely new experience. I've never had a new car. It was time to get rid of Aimee's two door Explorer. It really didn't have anything wrong with it, but we thought it best to move on before it crossed 100kmiles. So, we bought a 2007 Mitsubishi Outlander – loaded except for navigation and DVD. We just couldn't see paying upwards of $4000 for that stuff. You know that we got a good deal, though! That had to be the most hassle-free vehicle purchase ever. We already knew what it would cost so there was no haggling. We already new what our financing would be so there was none of that run around. Easy!
I highly recommend that everybody buy their vehicles this way. Oh, wait…I guess that not everybody can. Too bad for you.

09/23/2007 Back From Our European Vacation!
So, we made it back from our vacation. We headed out on Sept 3rd and returned on Sept 14th. It was a great trip – a return trip for me, but this was Aimee's first time, and she loved it!
We flew to Paris (via Boston) to start our trip. Paris was really just a starting and ending point for us because that's where we could fly on miles. So on our first day in Paris we were really just waiting to leave. We did make the most of it, though. We spent our whole first day over in the vicinity of Notre Dame. I know, I know – it's Paris, but one of my main observations about the area was that there were adolescents dressed in 80s punk or 80s rap garb everywhere!, and everything was covered in graffiti – even on the churches. I mean, come on…the churches?
What more is there to say…we saw a lot of pretty buildings; I started taking a ton of pictures (I bought a new Nikon D40 for our trip. It's awesome!) We did stop at a cafe that I knew of, however, just across the river from Notre Dame that has the best hot chocolate…they bring you a pitcher of hot milk and a pitcher of melted chocolate – make your own.  It is amazing. If you have never had hot chocolate this way before I highly recommend it.
We caught an evening train to Nice on the French Riviera.
Click here or on the city name above to see Paris and Nice pictures
Nice is gorgeous (yes, I avoided the obvious pun here)! On the southern coast of France (right next to Monaco) it has blue seas, beautiful beaches, great climate, etc., etc. It's a quaint city full of narrow streets, old Mediterranean looking buildings, and coast line. One of the smartest things that we did here was buy a two day pass on the double decker tour bus. We used it to get to all of the spots that we needed to see. It came around every half hour or so which allowed us to just hop on and off as we pleased.
There is really a lot to see in Nice. The main drag on the beach is the Promenade de Anglais with it's mostly beautiful buildings on one side and the amazingly blue water on the other. Vieux Nice is Old Town Nice – home to the famous Flower Market among other things. What is neat here is that the flower market shuts down in the early afternoon and they come and take everything away, wash it all down, and the resaurants in the square take it over…like the market was never even there. Further into Nice is an active Monestary and its beautiful gardens, ever present Roman ruins, and the Henri Matisse
museum (he was a modern artist and sculptor).
Nice is a resort town so you can get an idea of its feel. We caught a night train to Florence on Thursday.
Click here or on the city name above to see Paris and Nice pictures
Upon arrival our agenda led us to find a hotel and then to the museum that houses MichelAngelo's statue of David. The lines to get into this museum can be ridiculous without reservations so we wanted to get there before it got crowded. After a few missed turns and momentary times of being completely lost we got there – and not a moment too soon because the lines grew exponentially after! There's just so much art to take in,
and the museum had an exhibit of musical instruments from the Medici period that was fantastic. Once we got to the statue of David, Aimee was pleasantly surprised. She did not think that she would be impressed, but the sheer size of it changed her mind. I mean – the work is just amazing.
I wanted Aimee to see the famous duomo in Florence – the Basilica di Santa Maria del Fiore – so that's where we headed next. The dome of this cathedral is absolutely awe inspiring – the imagery in the painting of the dome is shocking (even scary) and just beautiful. We climbed to the top of the dome (463 steps) coming out onto the top of the dome above the city. It is the second best view of the city in my opinion. To get to the absolute best view we had to start our trek to a hill overlooking the city (really just a couple of miles but the walk up the hill can take it out of you).
Along this trek we passed over the Ponte Vecchio. This area is quite an impressive shopping district – lots of leather and lots of high end jewelry. We didn't buy anything (I know, I'm cheap). Onto the overlook of the city! Along the way, you pass an old watchtower, and you can envision its intended use hundreds of years ago. We made is to the top of the hill (with the rest of the tourists) just before sunset. It was absolutely beautiful, and I had a new camera to play with so I was happy (I can't vouch for Aimee's happiness regarding this acquisition j/k. She had to put up with me taking way too many pictures). We closed out the day with dinner in a little restaurant.
Day two in Florence was abbreviated, but we had seen enough and did not have time for any day trips out into Tuscany. We caught a train to Rome that put us there in time for dinner.
Click here or on the city name above to see Florence and Rome pictures
Rome is big! We arrived around 4PM and again went straight to our hotel. We had reserved a room just across from the train station, but when we got there we had some bad news – the AC wasn't working properly so they were going to move us a few blocks north to another of their hotels. That was great news though because this was a 4 star hotel in Rome and we got it for our original rate of 122 euro. The list rate at the new joint was 220 euro!
So, now off to the see what we could see. The Saturday that we arrived happened to be a city festival called White Night so the city was hopping…concerts, parties, and general merriment. Our first stop was Piazza del Popolo, and we walked to the Spanish Steps…it was packed! We got out of there pretty quick because we were sick of people trying to sell us crap. We found a little restaurant and ended up eating dinner with a couple from Great Britain.
The next morning was Sunday morning so where else should we go but Vatican City. We toured St. Peter's basilica, and it was really neat to be there while Mass was being held. We then made our way across town to the Circo Massimo (Circus Maximus) to pick up a walking tour called Rome(ing) Tours. This was definitely worth it…you get a little history, see some old stuff…can't ask for much more. That pretty much wrapped up our day.
Monday morning came and we only had one thing left to do. We made our way back to Vatican City to go through the Vatican Museum. After waiting in line for about an hour and a half we finally made it inside…did the normal stuff – Sistine Chapel, etc. The tour left us with a few hours left to go see a few more sites including San Giovanni Laterno which is Rome's cathedral and, hence, the Pope's home church. That was interesting…I had always assumed that it was St. Peter's. We made our way through a couple of other churches on our way to the train station to catch the night train to Munich.
Click here or on the city name above to see Florence and Rome pictures
Bavaria – Munich, Germany & Salzburg, Austria:
We arrived in Munich early on Tuesday morning so we booked a room and promptly left town. Off to Salzburg. It's only a two hour train ride so it was a nice little break. Once in Salzburg, we did the typical stuff – we went to Mozart's childhood home, went into some churches, climbed the hill to tour the fortress overlooking the city (a little advice – pay the 3 extra euros to take the tram to the top), and went to a 100 year old Schnapps bar. Actually, the Schnapps bar was something we saw on Rick Steves just before we left, and we're really glad that we came upon it.
We took the train back to Munich and made it back in time for dinner at the Hofbrauhaus. Of course, this is one of the oldest beer gardens in the world, and it is an absolute imperative to go there for a beer (or multiples).
Wednesday morning took us just outside of Munich to Dachau. Dachau is the location of the first concentration camp – it was used as the model for all subsequent camps. It is truly a sobering experience to visit. Even here, though, it is impossible to grasp the enormity of where you are particularly since this one was actually getting good reviews from international inspectors through the 1930s. We took the train back into Munich to grab dinner and catch the night train to Paris to close out our journey.
Click here or on the city name above to see Salzburg and Munich pictures
We arrived in Paris at 0630 on Thursday morning. That's really early! It's odd being out and about in a foreign city before it is awake. We dropped off our bags at our hotel that we had reserved long before we got there…good thing too because the Rugby World Cup was in town. We had an 11AM bike tour to join under the Eiffel Tower so we made our way there. We were there before the rest of the tourists so it was nice to see everything before it got crowded. It turns out that the 11AM tour was all booked up so we had 5 hours to kill before the 3PM tour. What did we learn? Paris is big! We ended up at the Arc de Triomphe after what seemed like forever of walking. We went to the top and were given one of the best views of the city. It's not the highest point, but it is central and you can see all of the important parts of the city.
The mid-day activity was the bike tour. If we had only had a bike when we started out in the city! It is easily the best way to get around. The tour hit up all of the major sites around the city and came with a little history too. After a nice dinner sunset came and we took a night cruise on the Seine River. This with a bottle of wine was a great way to close out our vacation.
Dallas, Texas USA
Back home – it's good to be home. We unpacked the back packs, started the laundry, and tried to rest up before real life started again on Monday.
08/20/2007 Promotion
Aimee recently (after a couple of years of doing the job sans proper title) received a promotion from Senior Account Executive to Account Supervisor. This is great news! She will get to manage an employee, and she will finally have time to focus more on her business instead of the standard grunt work of a more junior employee.
08/20/2007 We're Going to Europe
We will soon be taking a backpacking trip to Europe. Although Aimee wasn't too keen on the backpacking and sleeping on the train part she quickly decided that it was a good idea. This will be her first trip to Europe. Since I have backpacked before I wanted to have some flexibility in our schedule and we figured that backpacking would provide us with the most options.
We will be hitting up at least five major cities in a rather short timespan, but there is no doubt that we'll have a good time.  It will be a whirlwind tour, but we plan on traveling to:
Paris
Nice
Rome
Florence
Munich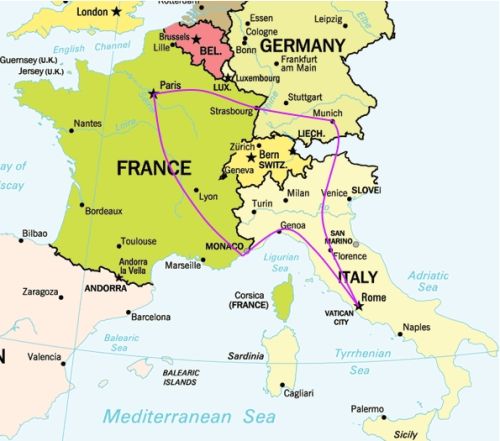 More to come on our travels once we return! I hope to have lots of great pictures.