It has been almost 2 months since my last post, and although it feels like it has been a slow last couple of months it has been anything but!
Let's start with the big news first – Aimee's mom has decided to leave California!  After several months of searching herself and with Aimee as her proxy she closed on a new house nearby in October.  She plans to be out of Riverside, CA and here permanently by Christmas.  It will be great to have her here and she'll be happy to have her grand daughter within 20 miles instead of 1500.
Locally, we made an upgrade to our own home…no, we didn't move; we did have a sprinkler system installed, though!  To be honest, I wanted to do it myself, but then I started looking into the legal and code compliance aspect of it and decided that it would be better to have it done by a professional.  The system is in and is wonderful, but it has been a pain dealing with contractors and we're still not completely settled out with them.  Maybe we can finally have grass in the back yard now…something that we really haven't had since we moved in.  We'll have to wait until the spring for the real grass and we just have rye planted for now.
Now for your real interest.  Watching Sara grow and develop is such an amazing blessing.  She's definitely a toddler now with her own personality, wants, contrary-ness, and patience testing.  She's no longer in her infant seat and we just put a big girl seat in my truck.  It wouldn't fit facing backward so she got to have her first forward facing ride on Saturday.  Trust me, she'll still be facing backward in the primary vehicle, but she likes to be up high able to see.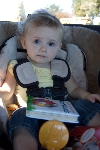 Of course, she's babbling constantly, but she isn't really saying much.  All we've really got for now is, "Uh Oh", "Mama", and maybe "Woof".  All that I can tell that she is really saying intentionally is "Uh Oh", but Mommy would probably say differently.  She's also still on her first four teeth, but we think that some more may be coming in now…we've been saying that for four months now, though – so we'll see!
Oh – and I almost forgot!  No, wait, I didn't.  We just got through Halloween, so I better post some photos of that.  Sara had a good time this Fall season visiting pumpkin patches and dressing up.  She was a ballerina and loved prancing around in her costume.  Mommy made sure that she got plenty of use out of it, and she wore it probably no fewer than 4 or 5 times!  She also enjoyed trick or treating, and liked the people giving her candy.  She loves it – well – she loves the wrappers at least.  She doesn't yet know what is inside.